You may notice that as you age the harder it is to get rid of that excess fat around your midsection. That's because our body's metabolism naturally slows down as we get older, making it more difficult to shed that unsightly bulge that hangs around the abdomen. For many people, this area is like a magnet to excess fat and its accumulation can be frustrating, especially for those who diet and exercise with little results.
Fortunately, at Avalon Lipo & Aesthetics, our specialty is liposuction. Dr. Reza Tirgari has long been a leader in the field of liposuction around the San Diego and Carlsbad areas and has extensive experience to help you trim away unwanted fat. With our highly-trained staff and state-of-the-art equipment and techniques, we can help you eliminate those pockets of fat with our abdominal liposuction procedure. If your goal is to have a slimmer and trimmer stomach, we can help.
Why is Abdominal Liposuction the Most Popular?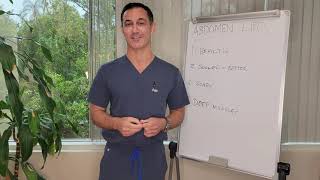 The most important thing to remember about liposuction is that it's not a weight-loss solution. Ideal candidates should be near their ideal weight prior to undergoing any liposuction procedure. Because we value your safety above all else, other qualifications for ideal candidacy include those who:
Don't have any severe illnesses or diseases
Have not recently given birth, as new moms should wait up to six months after childbirth for treatment
Are not smokers, or those who can quit for a period of time before and after treatment
Have realistic expectations for the procedure
During your initial consultation, Dr. Tirgari will go over your current health and medical history to make sure that abdominal liposuction will be safe and effective for you. He'll also answer any question or concerns you may have so that you understand exactly what is involved in the procedure.
Once you've been cleared as a candidate, you'll set an appointment for your liposuction procedure. At our office, Dr. Tirgari uses advanced methods of minimally-invasive liposuction, including:
SmartLipo
Laser Lipo
Tumescent Lipo
For the procedure, Dr. Tirgari will inject a local anesthesia into the target areas, as we do not perform our liposuction procedures under general anesthesia. This allows you to be awake and to let your doctor know if you feel any discomfort during the treatment. Once the anesthesia begins to work a couple minutes after injection, tiny incisions are made to allow a micro cannula into the treatment area to remove and melt the unwanted fat. Because of the advanced liposuction techniques Dr. Tirgari uses, you'll enjoy skin-tightening effects as well. This is because the process he uses triggers the body's natural production of collagen, which helps give skin its elasticity.
After your procedure, you'll be monitored and allowed to rest until it's deemed safe for you to return home. In some cases, you'll be able to leave in a short time after the procedure but it's recommended that you have someone pick you up as you'll likely be feeling some discomfort and numbness for a time. All post-operative care and instructions will be relayed to you including any abdominal garments you need to wear and pain medications you can take.
It's important to rest and stay home for up to three days after your procedure to allow time for healing. Our liposuction procedures do not require stitches but some swelling and discomfort may persist for a few days. We'll schedule a follow-up appointment to monitor your progress and make sure that you're healing properly and happy with your results.
At Avalon Lipo & Aesthetics, we're here for you from your initial consultation all the way through to your post-treatment care. Our goal is to provide you the best results in a safe and effective manner so you can feel great about how you look. For more information on abdominal liposuction, contact us today by filling out the form on this page or by calling us at 619-436-5224 to schedule your consultation. We proudly help those who live in the San Diego and Carlsbad areas of California.